It's fast. Really fast.
Our internet is among the fastest in the area. No more fighting with family members over bandwidth. Now everyone in the house can use a device connected to the same network without lag.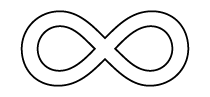 To infinity.
The power of our network allows us to offer unlimited data usage every month. Unlike with your current provider, that means no more slowed speeds or extra charges for enjoying our service.

Perfect symmetry.
Get the same download and upload speeds. Posting a video, sharing photos, video chatting or online gaming is faster than it's ever been.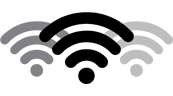 Whole home wi-fi.
Play, stream or scroll in every room of your home on any of your connected devices.
---
Who are we and why?
FiberMeQC is a local provider offering all-fiber Internet to areas in the IL/IA Quad Cities, powered by Geneseo Communications located in Geneseo, Illinois. As to the why? Quite frankly we've watched for far too long areas suffer from a lack of true fiber broadband availability or lack of reliable and affordable service. We are here to change that.
What is fiber, and what's so special about it?
Fiber optic systems use bursts of light sent through thin glass fibers to transmit information, resulting in much faster speeds than traditional copper or cable lines. Other internet providers use fiber in their systems but use copper or cable lines for the final connection to the home, resulting in slower speeds. FiberMeQC will bring fiber all the way into your home, giving you access to incredibly fast download and upload speeds.
What equipment is required?
We use a device called a GigaCenter which is the very best Optical Network Terminal 'ONT' available with built in wireless capabilities that support numerous devices at once providing you with exceptional home wi-fi service. During your installation our technician will discuss with you your wireless needs and may suggest additional equipment to enhance your wireless experience.
Are there any data caps?
No. Use as much data as you want with no caps or throttling.
What speeds do you offer?
25Mbps - 50Mbps - 100Mbps / Speed and Pricing Information
Are there any upfront fees?
Yes, we require a one-time installation fee of $99, plus a one-time fee of $99 for use of the needed modem/router. Keep reading for the reasoning behind these fees.

The cost to bring fiber to a home is pricey, in fact for a subscriber of our service it takes about 50-months of continues service payments to recover our investment. Plus, to insure you the best possible connection we supply you with a commercial grade modem/router to use, which cost us $324. We ask the one-time fee for use of the modem/router for two reasons; one we do not want customers paying monthly to lease a modem and end up paying for it 10x over the course of being a customer. Two, the modem/router can make the difference of an ok high-speed Internet connection and wi-fi experience to a great one. We want to control that experience plus remain responsible for the equipment to support you during your time as our customer. So, in a nut shell it's a small up-front investment to insure you continue to enjoy a superior high-speed Internet experience that includes no contracts, no price gimmicks and no data caps.
I can get a Gig from the competitor.
That is what they say isn't it, but here are a few things you need to know.
Don't buy into the hype. Most internet providers use fiber in their systems but use cable lines for the final connection to the home, resulting in slower speeds. Those same providers also split your Internet connection, so you share it with your neighbors resulting in slowdowns during peak usage time like before work and after school when Internet traffic can get crazy busy. With Geneseo Communications, you won't notice the difference. Anytime, day or night, get the speed you need. So, GET FiberMeQC and GET going!
Don't buy into the hype, literally. Don't pay for more than you need.
A lot of Internet providers market using the adage 'more is better' which is a great fit when you are talking ice-cream, but when it comes to Internet connectivity a Gig is complete overkill for home use. Also keep in mind that providers like to claim they provide a Gig of service but since their service is NOT a direct connection to your home you are likely never getting a full Gig. Also, if you use too much of that shared connection they will throttle your speed. Oh, and one more thing, they cap your data, go over and you pay!
Can FiberMeQC provide a Gig?
Sure we can, but we don't believe in making you pay for way more than you need. Bottom line, 99.9% of households do not come close to using enough data to warrant paying for a Gig.
But, isn't a Gig faster than 100M?
When it comes to the Internet the numbers represent the amount of bandwidth, which is the amount of data needed to run your home's connected devices. It can get a little techy so here are a few simple facts?
Have numerous connected devices?
A 100M fiber line to your home provides enough bandwidth for multiple connected devices and heavy Internet users. Even households where heavy downloaders, gamers and media streamers live.
Got online gamers?
A 100M fiber connection is more than sufficient for gamers, especially when our latency time (aka the time between when you click something and when you see it) is superior to other providers in the area. In a gamers world response time could be the difference of victory or defeat! And while your gamer is conquering the kingdom, with your stable fiber connection from FiberMeQC other users in your home can simultaneously stream videos and download files.
Do a lot of streaming video?
A key difference between Mediacom's cable delivered Internet and FiberMeQC Fiber Optic delivered Internet is symmetrical speeds. What that means is you get 100M upload as well as 100M downloads. So, live streamers can comfortably stream video and audio without breaking the bank!
So, let us repeat ourselves, "Don't buy into the hype."
100M fiber Internet from FiberMeQC is more than enough for your bandwidth hungry connected devices? The list below details the bandwidth "consumed" during some of your common online activities. When you are done "digesting" this information, GET registered to GET Fiber Fast for your home!
| | |
| --- | --- |
| Gaming (Battlefield 1) | 222 Kbps |
| Web Browsing | 5 to 10 Mbps |
| Music streaming in high quality | Up to 320 Kbps |
| Netflix streaming at 4K UHD | 25 Mbps |
| Skype video call in HD | Up to 1.5 Mbps |
Still have questions?
Feel free to call us toll free at 877-FiberQC (342-3772). Talk to a live, local voice Monday - Friday, 8 AM to 4:30 PM.